Hi all...All this week us sister's over at Kindred Sisters Gathering Post selling blog have been busy creating lovely Christmas ornaments for the holidays along with other super creations. Stop over and check them out. Just click the link on the right of this page.
Now..these are not your grandma's clothespin dolls!!LOL Although they may be her clothespins!
Here are my two ornaments/dolls. This is Nell and Thea. They measure about 5 inches and can sit on a limb on your Christmas tree or on the custom stand included with them.
I hand molded clay onto a vintage old style clothespin. Their arms are cloth and bloomers and shoes are painted. No glue has been used on these little cuties.
This is Thea...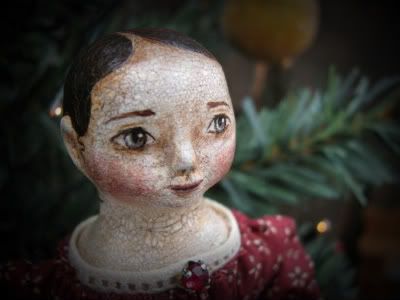 This is Nell....