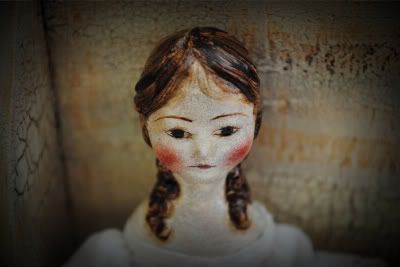 ~~~SOLD~~~ Thank you Kathy! Antoinette will be her way to Virginia in the morning!
Good day all! Well it seems like forever since I have had a doll on ebay so it is about time! This is Dearest Antoinette. Antoinette is in that in between stage of life, not a child but not quite a lady. I think she is in a thoughtful mood of late. Probably wondering about the young boy in her English class!LOL She is a sweet 7 1/2 inches tall. I just adore dolls by Izannah Walker and Queen Anne dolls so I like to incorporate them both into the dolls I create.
Antoinette will be for sale tonight on ebay so stop over and check her out. Just click on the My Ebay tab on the upper right of this page.
Have a lovely night..
Kimberly